The Basics to Start Replacing Your Old Vents
Our informational guide pages are here to help you get started!
How To Replace Your Old  Metal Vent Covers With Custom Wood Vent Grilles
You can give your home the look of an estate with custom solid wood heat and air registers for as low as $19.95 each!
American Wood Vents builds tens of thousands of wood vents for new home builders, carpenters and home remodeling companies every year, but we sell almost as many, just a few-at-a-time to Joe and Joann the private homeowners. Our simplest wood vents install so easily that little Joe Jr. or Joann Jr. could even install them.
What it takes to successfully install heating and air conditioning vent covers for Do-It-Yourselfers!
The prerequisite for being able to professionally remove and install vent covers varies greatly with the complexity of the location and material the cover is going in.  Two out of three wood vent covers we sell to replace existing metal floor, ceiling and wall vents are easily installed by anyone with a screwdriver (sometimes, not even that is needed).
Brief Facts Before We Get Started
Many Choices In HVAC Vents
There are many variables in custom wood vents, and it's important to how to make the proper choices for each variable. Click on any question below to find out more on the subject.
What should the vent look like?
The design of your new wood vents will affect air flow, so you not only want to choose something attractive that goes with your interior, but also one that sends air to the proper places.
We offer Vent Fits in both the Self-Rimming (surface mount / drop in) and Flush options.
For Walls & Ceilings, etc. (non-floor locations) we have the Self-Rimming or Surface / Flush Mount (w/out frame piece) fit options.
For Floors we have the Self-Rimming, Flush Mount with Frame, and TrimLine Flush Mount (frameless) fit options.
Our Vent Styles for Walls, Ceilings, and other non-floor locations are the Laser Design, Register Style, Louver Style, Shaker Style, Linear Style, & Grate Style. For Floors we have the Register Style, Shaker Style, Linear Style, & Grate Style. For load bearing and high traffic concerns we strongly recommend the Grate Style (i.e. eggcrate, nautical hatching) as it is the most strong and load bearing of all designs.
Vent Size: What Are the Dimensions?
ALL SIZES ORDERED GO BY DUCT OPENING SIZE!  This helps tell us how much room to allow for air flow, the back of the vent will also nest into this opening.
Additionally, let us know your Overall Size needed if you have any size restrictions, such as in ToeKick areas, between molding, against flooring, etc.
We offer fast delivery on vents in most most standard builder sizes whether it's for the floor, wall, ceiling or steps. We also build custom sizes for unique vent sizes, including oversized sizes.  We engineer the support beams in oversized floor vents. 
Do You Need An Air Filter Frame?
If your air vent is a return air vent with a filter, you will want to add an air filter assembly package that has a frame, hinge & clasp assembly to more easily change your air filter. If you want the hinge on a certain side/length, please notate when ordering.
What Species of Wood Do You Want Your Vent Made Of?
We offer more than just Pine or basic wood options here! We custom build vents and wood products with over 2 dozen different species of wood! If you are painting your wood vent we offer paint grade options of Birch, Maple, Pine or Poplar.
*Remember if you are staining your wood, we will need to focus on matching the wood grain to your existing location. Our staff is happy to help you identify your wood species if you do not know. This will also help make sure the wood can absorb the stain in a similar way. So we first identify the wood species and color match second.
What color of stain and sheen finish do you want?
Vent Location: Where is the vent being installed?
A small vent in drywall is easy, but if it is half in drywall and half in the floor molding it becomes more complex to fit.  If you need an oversized vent for the floor, we also have to consider load-bearing reinforcements.
We specialize in the below listed Wood Vent needs:
We Will Need to Know the Measurements of Your Duct Opening or Air Flow Size.
This Chart is Helpful to Convert Your Fractions to Decimals for Sizing of Your Custom Pieces.
Further help for specific vent locations…
Typically the first measurement we need are the Duct Opening or filter sizes, but sometimes we need the overall size as well, especially if you have to fit within a specific tight area, or if you have an obstruction such as a base molding, threshold or cabinet nearby. 
We need different sizing information for different situations. If you purchase a wood vent without knowing the right size that you need, then it is likely not going to fit into the air duct opening that you are going to place it in. You can save yourself a lot of money, time, and energy by figuring out what size vent you need before you place your order. A lot of the questions we get on a regular basis pertain to measuring and sizing, so we will do our best to help you make sense of this now. It is better to get it right the first time. If you call, kindly have a tape measure handy as we may ask you a sizing question which you had not anticipated. You can also email a photo or attach photos through our quote request center to help communicate your needs, and we will explain what measurements are needed.

We have a few real life sample photos of specific vent locations to help better understand "How-To Measure"
We often get calls regarding replacing a broken flush mount insert for the pre-existing framework.  All manufacturers use their own production sizing, so we will need 3 sets of measurements to fit within their tight framework. Sometimes, installers have modified or retrofitted these and you may want to include a photo for us to spot any potential red flags. The 3 sets of measurements we will need will be the backside that fits into the duct opening, the top edge thickness, and the overall size. This diagram is most helpful to reference for sizing replications. If your insert is missing, you can also measure your framework.
If you want a SELF-RIMMING (Surface Mount / Drop In) this will have a lip/flange holding it atop of surface.
We will only typically need the Duct Opening Size, unless you have a special fit situation such as up against a wall, etc.
Replacing a Broken Flush Mount Supply or Air Return in the Floor
Here we need the Duct opening size and the Overall size and the depth, so that we can make the new one fit flush to your flooring. If the duct opening (hole cut into the sub floor) is not centered, then you may need to get me the distance from each of the sides to the overall size, especially if it is < ¾" thickness. We will go over all if you call or email. These are typically the most difficult to fit so have a tape measure ready in case I need another dimension which you did not anticipate. 
In addition to the Length x Width of your Duct Opening and Overall size restrictions, it is also important to notate if you have a support joist underneath, and floor thickness. We may have to change your vent to properly fit over the joist and remain flush to the floor. We are happy to help change your vent fit for obstructions, such as beside a wall.
Installing New Flooring with Flush Fitting Vents
If you are installing new flooring, you typically want Flush Mount registers or air returns so everything is perfectly smooth or flush with the flooring surface. Here we need the duct opening size and the flooring thickness and if you want the Flush Mount w/ a Frame or the Trimline Flush mount without a separate frame version. Yes, we are the manufacturer so we make flush mount vents and air returns for most any thickness flooring or size.
For the TrimLine Flush Mounts (these require 1/2″ solid support on each side to be load bearing and rest upon subfloor) we will need your Duct Opening size, Floor Thickness, and if you are restricted or have an existing Overall size cutout.
For the Flush Mount with Frame we will need to know your Duct Opening Size and floor thickness.

These are tight spots, between the floor below and cabinetry above for the Toekick vents, and for the Stair Riser vents, the stair tread below and above. Just get us the duct opening/cutout size for the air flow, the distance on the long side below and above (and secondly the overall size to double check the size). We are happy to make your vent fit according to your asymmetrical needs when it's against a wall, floor, etc.
If you need whole Step Riser panels re-created like in this situation. Let us know each duct opening size as well as the distance in between each duct opening.
If you have an air filter behinde your grille, please let us know the air filter size.
We will need to know the Length x Width of your Duct Opening or air filter size.
Also, if your Overall size is restricted or needed at a specific size, notate that information as well. Sometimes, you have some molding, wainscoting, door frame etc that is usually within 1″ or 1.5″ a beyond the opening so just give us that distance to the obstruction as well.
We will need to know the Length x Width of your Duct Opening size.
Next we will need to know the Overall size, and any surface thickness. The thickness for Surface / Flush Mounts will tell us how thick you need it to be flush with your base molding, etc.
We will prefer to know the Length x Width of your Duct Opening size to better understand the air flow size.
Next we will need to know the Overall size (Length x Width), and depth. We prefer to use a depth at a minimum of 3.25″ so as to not cut off too much air flow.
Here We need to find out the thickness of your Door as this must securely nest into that opening. Interior doors are usually 1 3/8″, but also typical thicknesses are 1.5 or 1.75″. If you have panels they are usually around 5/8″ or 3/4″ thickness. Will need to know these precise measurements to fit just right into your door.
Additionally, we will need the Duct Opening/cutout size. If you have a preferred Overall size please let us know that size next as well.
If you have a vent that is located next to some obstruction such as a floor, door or wall, maybe your duct area was not symmetrically cut, we are happy to help revise your sizing to assist you with your tight spot.
We will begin with the Duct Opening size, then we just need to get some additional measurements from you if this is your type of situational fit. We will need to know either your specified size or Overall Size allowance on all 4 sides as well. For ex. 0″ bottom, 1″ top, 1/2″ left, 1/2″ right.
Now, Let's Start Measuring! Learn More Below ↓
Measuring Your Duct Size Isn't that Scary!
We will walk you through all the steps you need
Our Solid Wood Vents will Have a Rabbeted Backside that Nests into the Duct for a Secure Fit
How to Read a Tape Measure:
Let's Begin…
1.) First find and read the markings on your tape. On a standard tape measure, the biggest marking is the inch mark (which generally has the biggest number, if it has them).
 2.) As the increments decrease, so does the length of the mark. For example, ½" has a bigger mark than ¼" which has a bigger mark than ⅛", and so on.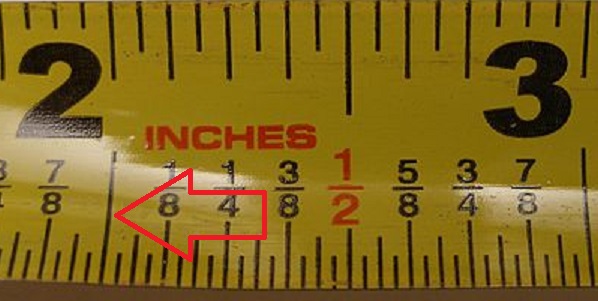 3.) Read 1 inch. The space from the largest mark to another largest mark,  is 1 inch.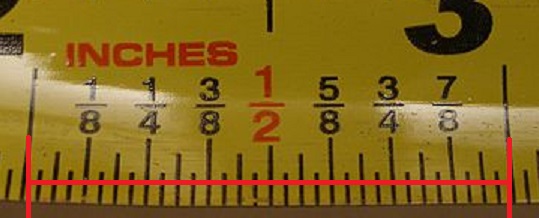 4.) Read one-half inch. Same principle as reading one inch, only this time the space between the second-biggest mark and the biggest is read. You can think of a half-inch mark as half way between a full inch.

5.) The remaining markings follow a similar pattern. ¼" is half of ½". ⅛" is half of ¼". Most tape measure markings go as small as 1⁄16". This tape divides one more time, down to 1⁄32".
How to Measure Using a Tape Measure

1.) To Measure a Length, put the end of the measurer at one end of the item or space you want to measure. When the length stops, take a reading on the tape measure.
2.) Find the length. In order to determine the length, you must add the lengths between inches together. For example, the image below has a measurement that goes beyond the space between two inch marks (that is, one full inch). In order to find the length, add the length of the inch (1) with the space between the second inch mark and the third. In this case, you'd add 1 inch + 1/4 inch to get 1¼ inch, or "one and a quarter inches.

3.) For a length less than 1 inch, simply read off the tape measure length. If the increments of an inch are not labeled, determine the marking's increment and add together the respective fractions.
4.) As an example, the image below shows a length that goes from the inch mark to an unlabeled marking. We know it's more than 3/4 of an inch and less than one full inch. The marking is half way between 3/4 (6/8) and 7/8. Therefore, the marking is half of 1/8, or 1/16. Taking this knowledge, you simply add the known fractions to find the length. Convert 3/4 to 12/16 for common denominators and add 12/16 + 1/16 to get 13/16 – that's your length.


Measuring Your Duct Opening
We Will Need the Duct Opening Size the Vent Must Fit Inside
How To Properly Measure Vents
Here, you'll find a collection of information that will help you with questions that you may have about your order.
If you still have a question, or if you can't find the information you need here, please feel free to contact one of our sales representatives – they'll be happy to help!
MEASURE VENT COVERS
STEP 1:

REMOVE YOUR EXISTING VENT COVER

You are not measuring your old vent cover.  You are measuring the opening (hole) that the vent is covering and will fit into on the backside.

     

STEP 2:

MEASURE THE DUCT OPENING

First Dimension: LENGTH IN INCHES (plus any fractions)

Second Dimension: HEIGHT IN INCHES (Plus and Fractions)

THIS IS YOUR DUCT OPENING SIZE.

Note: Make sure you measure all 4 sides of your duct opening.  Not homes and buildings are built perfectly.  Some have "out-of-square" openings- not perfectly square or rectangular.   

     

STEP 3:

Order Your Vent!  Find the vent you want in our online store, find your size and customize it!

Note: If you have a non-standard size or shape, vent, you need to request a custom quote before you can purchase your vent.  We promptly return quote requests during business hours. 
TROUBLESHOOTING TIPS:
DUCT OPENING IS IN A TOE-KICK OR CLOSE TO THE ADJACENT WALL?
If a duct opening has restrictions in terms of outside dimensions because it needs to fit inside the limited space of a toe kick, or it is too close to the adjacent wall/ceiling you may require a custom outside dimension. Most of our laser cut covers (aside from Quick Ship items), as well as our wood covers can be adjusted to fit the correct border size you require. If you need a custom outside dimension please leave us a note during your quote request.
HAVE A NON-STANDARD SIZE?
There is no need for precise measurements, you can round the measurement to the nearest 1/2″ size, e.g. if your duct opening measures 9-3/4″ x 9-3/4″ a 10 x 10″ cover will work.
If your duct opening is rounded to the nearest 1/2″ size and you still cannot find your duct opening size listed don't worry. Many of our covers are available in custom sizes. 
Click here
to fill our our Custom Size request form.
NEW WALL OR FLOOR TRIM LEAVING NO SPACE FOR A STANDARD COVER BORDER SIZE?
Don't worry, we can adjust the size of your cover to fit! In many cases you will need to size down the cover to ensure the cover and its accompanying border will fit your duct. This is done by subtracting the size of the border (typically 1″-1.5″) from the opening size. e.g. a 10″ x 4″ duct opening that butts up against a wall can be covered by a 10″ x 3″ cover. Please call us if you are unsure of your measurements.
Remove your Existing Floor, Wall, or Ceiling Vent Cover
Measure the size of the duct opening (aka sheet metal, cut out size). This tells us the air flow size as well as the size your new vent must fit within.
(Do not order by the size of your existing vent cover. Order by the duct size. We will address the overall size later.)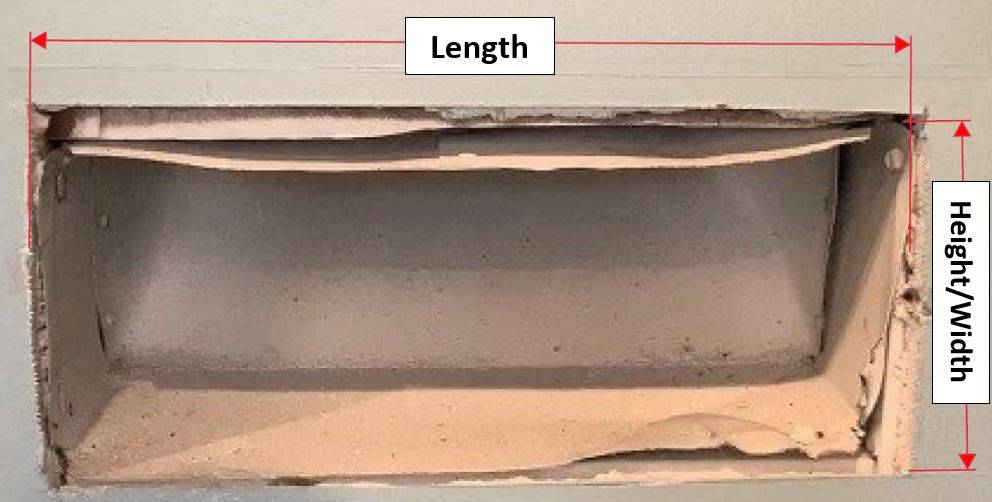 Place order by the size of the duct opening or cutout size. Communicate any size allowance issues . Review invoice that we send the SAME DAY you place your order.
Then install Your New Vent Cover upon receipt.

---
Measuring Hinged Air Returns (With Filter)
Hinged Air Returns Shown Above
Hinged Air Returns allow easy access to changing the filter.
The Hinged Air Returns are ordered by the SIZE OF THE FILTER. For example, if you have a 24″ x 24″ then the proper size to order is 24″ x 24″
---
Measuring for Flush Mount Wood Registers & Returns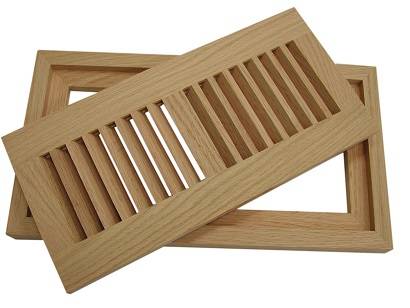 Flush Mount Register Supply Vents & Air Returns
Flush Mount Wood Registers & Returns are available in two, distinct types.

The Flush Mount with Frame (pictured) is typically installed when flooring is installed. For sizing, please use the duct size and reference the overall frame size at installation. The framework will add approximately 2.875″ to each dimension giving a 4 x 10″ duct size, an overall size with frame of approximately 6.875 x 12.875″.

The Trimline Flush Mount, which does not need a separate frame (you can still remove the register for access, just do not glue, nail or shellac down the vent to the floor) the overall size is specified as 1/2″ greater on each side. For standard preset sizes for example the 4 x 10″ duct size will have an overall size of 5 x 11″.  You can specify different sizes in our custom pages or contact us.
---
Measuring for Baseboard Registers & Returns
(Triangular Baseboard Show Above)
For Baseboard & Triangular Baseboards Supply & Returns or Baseboard Heater Covers, find your duct opening size, as well as measure the overall length needed. If the length needed is 15″ then you would order the corresponding baseboard register or return. We will also want to know the thickness or depth if you are fitting flush within your base molding or needing a Triangular Baseboard vent. Our minimum depth for Triangular Baseboards is 3.25″ so as not to cut off too much air flow.
The image below is an example of the dimensions of one of our baseboard register.